One of the outstanding features of Rhodds barn is the 50 foot long living area with an extensive library; a powerful wood-burning stove (as much wood as guests could want is provided free) and the two story windows on each side and then French doors leading out onto the pond and the countryside beyond.
On the ground floor there is a well-equipped kitchen and an additional shower room plus toilet. Upstairs, there is a large additional sitting area with television and then two bedrooms, both with bathrooms ensuite. In addition there is an attractive balcony which looks out onto a wild-life pond with views of the countryside to the south – a perfect place for a drink at the end of the day.
The barn sleeps four in the two ensuite bedrooms, linen and towels included. The fully-equipped kitchen has a full-size electric oven and hob; dishwasher, microwave, fridge freezer as well as a washing machine/tumble dryer. Catering can be organised for meetings; small corporate events or family parties and celebrations. We welcome children over six and babes in arms.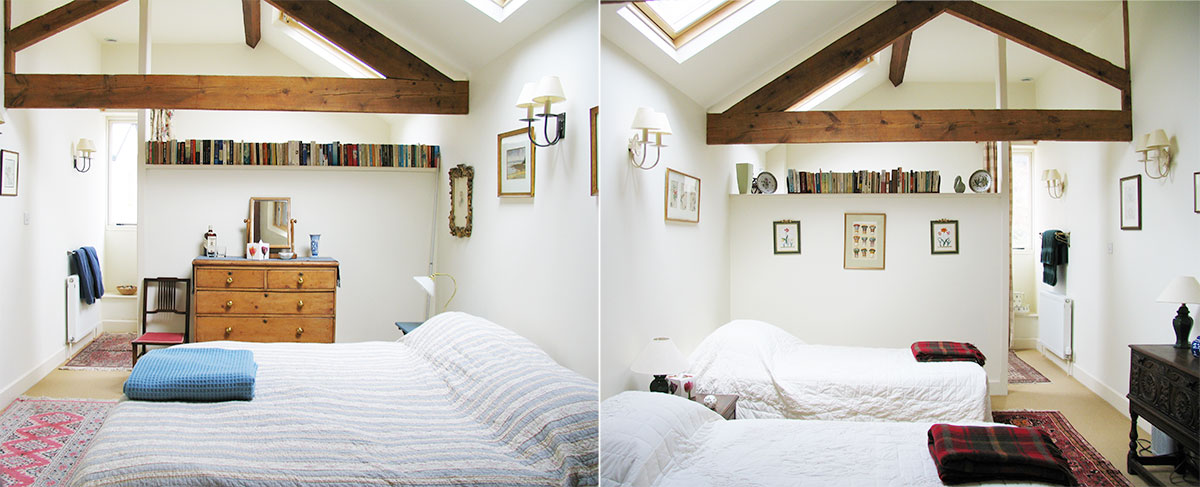 The barn has a fine Broadwood grand piano, although unfortunately there is a mechanical problem with a few of the notes meaning that they cannot be tuned, but guests are most welcome to play it. There are also a wide variety of other musical instruments, principally brass, which guests are welcome to play, but they are intended more for decoration than proper use.
Before contacting us about a booking, please check the availability calendar.
Rhodds Barn is exceptionally fortunate by being set in beautiful gardens; open fields and an ancient wood, all of which guests are free to explore and enjoy.
Free Fibre Wi-Fi.