One of the outstanding features of Rhodds Barn is the 48-foot long living area with a library, a wood-burning stove, and two-story windows on each side and french doors with a lovely view across the pond to the countryside beyond
Antique furniture and a large library of books make this property a real home from home.
Upstairs is an additional large sitting area with TV etc and in addition, a private balcony with garden furniture looks out onto the wildlife pond to the south; the perfect place for a drink at the end of the day.
The Barn sleeps 4 in two ensuite bedrooms.  A fully-equipped kitchen with full-size electric oven and hob, dishwasher and microwave, and washing machine. Guests are welcome to use the tumble drier in the owner's house laundry room. Catering can be arranged for meetings, small corporate events, family parties, or celebrations.  We welcome children over 8 and babes in arms.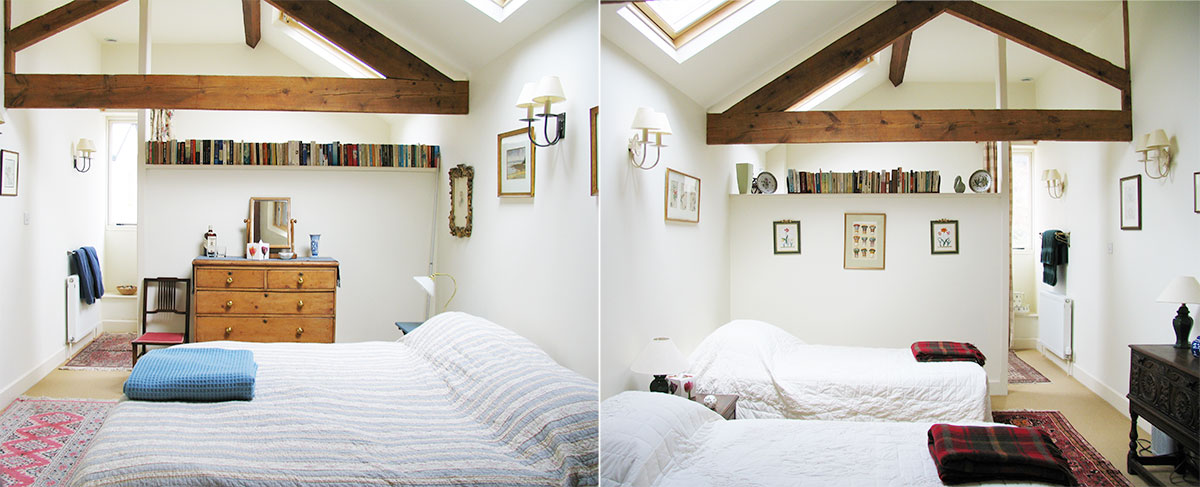 The barn has a rather fine Broadwood grand. Unfortunately, there is a mechanical problem with a few of the notes which means that they cannot be properly tuned, so the piano can be played, but it is not a perfect instrument! There are also a number of other musical instruments, principally brass, which guests are welcome to play, but they are intended more for decoration rather than proper use!
Before contacting us about a booking please check the availability calendar.
Rhodds Barn is set in beautiful grounds, a lovely garden and woods, all of which you are free to explore and enjoy.   Free Wi-fi – but we are isolated and have weak signal not always reliable and not suitable for streaming.   Rhodds Farm is extraordinarily quiet, with no neighbours; no traffic noise and almost total freedom from wind!